1st PVT.Security Conference
"Secure Bihar"
Report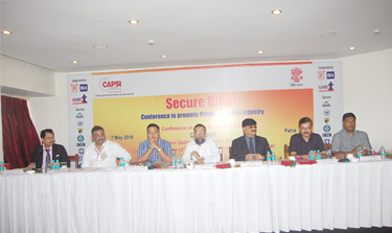 CAPSI Bihar in association with Department of Home, Government of Bihar organized 1st conference on Private Security Industries in Bihar namely "Secure Bihar'' Conference to Promote Private Security Industries" on 7 May 2016 at Patna.
The objective of this conference was to discuss on issues the Private Security Industry has been facing and also on different measures to enable & prepare the industry for broader perspective with expanding job responsibilities.
The conference "Secure Bihar" was inaugurated by Mr Amir Subhani, IAS, Principal Secretary, Department of Home, Government of Bihar as the Chief Guest and Mr Deepak Kumar Singh, Secretary, Department of Labor Resources, Government of Bihar & Sri Jitendra Kumar, Special Secretary Cum Controlling Authority as the Guest of Honour.
The occasion also witnessed the unveiling of CAPSI Bihar Chapter and oath taking ceremony for selected office bearers of this chapter in presence of all dignitaries.
The selected office bearer of CAPSI Bihar Chapter are: Mr. D P Singh as President; Mr. Ravi Shekhar as General Secretary; Mr. Sujay Sourav as Secretary; Mr. R.K.Kanth as Dy Secretary, Mr. Ajit Kumar Singh as Treasurer, Mr. Narendra Kumar, First Vice President, Mr. Sanjay Kumar Second Vice President & Mr. B D Singh Third Vice President and Mr. B K Singh as Executive Director.
During the welcome address, The State CAPSI Chapter President Mr. D P Singh on behalf of all members of CAPSI thanked Mr. Subhani for his support to bring PSARA rule 2011 & issuing license to Private Security Agencies. Besides, he also appraised him about the problem being faced by agencies in getting new license as well as its renewal. To overcome the licensing issues, Mr Singh suggested On-Line system.
Mr. Singh stated that private security industry creates & facilitates employment to a hitherto large section of the populace, which, if not employed in this industry, may have remained outside the fold of formal employment. It is in this sense that contribution of the private security industry to employment generation in India is unique. The industry presently provides employment to nearly 7 million people. With the growth of urbanization in the country and the changes in the perception of security by governments, business houses and citizens, this industry is poised to register a substantial growth in the near future. The Industry keeps great promises for the youth of Bihar who are either school dropout or school pass for their employment & livelihood.
On training & certification of Private Security personnel, Mr. Singh emphasized on the involvement of Home Department, Government of Bihar to ensure its authenticity, validation & reliability. He added that Private Arm License should be allowed to Private Security Industry because Arm License to Security Guard does render him to earn more wages for the same services. For Security Guards Arms Licenses is a tool and machine to raise his pay & perks.
Pertaining to training of private security guard, Mr. D P Singh added that it should be made necessary for Training Agencies those imparting skill training for Private Security Guard should have authorization of Home Department, Government of Bihar to conduct such kind of training. For the same, He also requested Honorable Home Secretary Mr. Subhani & Labour Secretary Sri Dipak Kumar Singh to lay down certain parameters for the training providers, their infrastructure, their experience & possession of PSAR License issued by the Deptt. of Home. Mr. Singh suggested that the training provider agency should have experience in the sector for more than ten years , at least 1.5acr area of the training centre & minimum 10 Cr turn over in last three financial years over and above the recognition by BSDM as training provider agency . At the end of his deliberation, Mr D P Singh also emphasized for adopting common uniform by all agencies for Private Security. He elaborated many benefits of it and the same was appreciated by all dignitaries.
The whole audience were enthralled when Mr. Amir Subhani in his maiden inaugural address to the private security professionals of Bihar expressed his affirmation for renewal of PSARA License on self Certification. In his address, he appreciated the initiative taken by the CAPSI Bihar Chapter under its President Mr. D.P.Singh for creating such kind of platform. He also agreed on the license process including renewal through On-Line process .On arms license to Private Security Agency, he said that if any such direction which is in offing from the Central Government then he would be happy to implement the same without any delay in Bihar because he agrees with Mr. Singh that it gives better opportunity in terms of scope and remuneration to the security guard. On training, he also agreed with the request of Mr D P Singh regarding authorization, inspection and certification of training agency who are conducting training of Private Security Guard. For the same, he also suggested Mr. Deepak Kumar Singh, Secretary, Department of Labour Resources, Government of Bihar to take necessary step towards this direction & lay down the parameters to bring the real players who have the necessary know how, experience & capacity of employment of guards by eliminating the proxy players in the field who are operating without even having the PSARA License.
Mr. Subhani opined for the governing council members & Private Security Professionals for the inclusion in the Committee formed by Regional Director (Bihar & Jharkhand), RBI and District & State level Public-Police Cooperation Committee (Shanti Samiti) etc. He said that in this modern world electronics security is the future hence he suggested security agencies to adopt and master in it to adjust with changing demand of industry. He appreciated the security agencies working in the state of Bihar with professionalism and honesty because he has not received any complain against any Security agency so far.
Mr. Deepak Kumar Singh, in his special address, emphasised the necessity of skilling and training that render employment and livelihood to the poor who are less qualified. He also opined in the affirmative for setting and fixing the norms & parameters for training centers & the assessing bodies. He laughed the quality of some of the assessing bodies who are issuing certification. He broached the idea to work out certain mechanism with local association for assessing and certifying the training of guards. He also said that he will fix up the parameters for the training centers & training providers to eliminate the hoax players. In this regard, he has asked for written recommendation from CAPSI Bihar Chapter to take the things forward in this direction.
Earlier, the oath taking ceremony happened in presence of Mr. Kunwar Vikram Singh, Chairman, CAPSI & Mr. Mahesh Sharma, General Secretary, CAPSI.
This programme has attracted participants & support from all spheres of industry.
The programme has two technical sessions with Controlling Authority Sri Jitendra Kumar as Session Chairman. The Controlling Authority has conducted open interactive session with Private Security Industry stalwarts on Licensing and its regulation. Mr. Jitendra Kumar has put the PSARA rule 2011 in true perspective and committed for standardisation of the Industry.
Mr. Kunwar Vikaram Singh the National Chairman said that the PSARA License should not be treated as other licenses like arms license because the license has a tripartite effect which bounds the service provider, the security guard and the principal employer i.e. the client to whom the services are delivered .Mr. Singh was very much committed in his expression for mandatory training and standardization of the services.
From the Industries Association Mr. K.P.S. Keshri, Mr. Manoj Kumar Sinha from NHRD have participated in the last technical session.
The conference was concluded by the words of blessing from the Accountant General Sri Pravin Kumar Singh followed by National Anthem.